Sweet New Store For Invitation Suite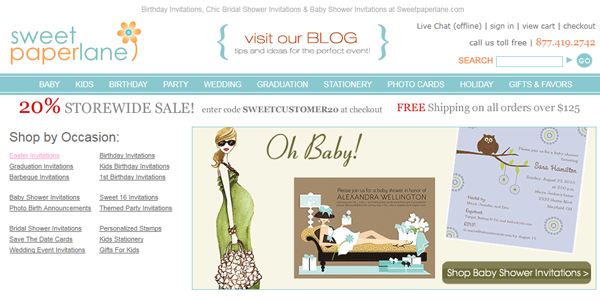 Invitation Suite is a online invitation and stationery company and we're thrilled to have been chosen as the provider for their new website and online store. Founded in 2005, IS carries a huge range of products catering to just about any occasion you can think of. Some of the lines they carry are baby shower invitations, bachelorette party invitations and bridal shower invitations.
Having become frustrated with how difficult and cumbersome their existing shopping cart made updating products and content, Invitation Suite owners were impressed with our platform's ease of use and how much control it will give them in making frequent updates to all their content. The site will be given a design facelift and many new tools added to make ordering products such as baby shower invitations much quicker and easier. This will include the ability to upload images and photos to attach to orders and an online proofing tool. We will also be utilising our new cart migration tool to move all Invitation Suite's many thousands of products over from their old cart into their new store, saving them having to spend countless hours re-uploading all their products! Look out for the new site debuting in late summer 2011.
tags: