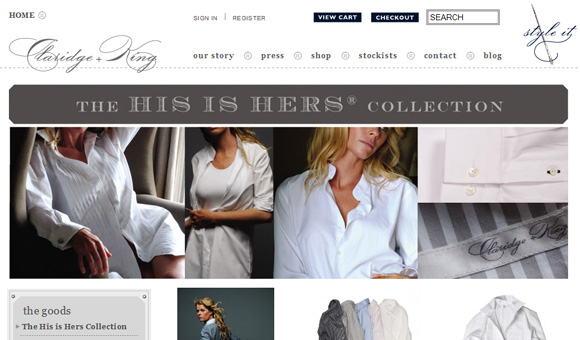 We Say:
Claridge & King specialize in a beautiful, hand-made range of tailored womens clothing, based on menswear. Having grown weary of the difficulty and cost making updates to their existing, Flash-based site, and poor search engine rankings associated with Flash-driven sites, they approached us in the spring of 2010 to completely revamp their online operations. Every area was to be improved and the new site contained many custom components and business requirements, such as animated slideshows, a custom-built Blog, a dynamic store locator, social network integration and dynamic RSS feeds of new products and blog entries. Our platform duly delivered, and – integrated into a brand new design provided by our friends over at PH Design, the all new site launched in the summer of 2010. We received an amazing testimonial shortly after from Liz King and Laurann Claridge and are delighted to post it below.
They Say:
"In the spring of 2010 we approached MyCommerce about revamping our company's website, www.claridgeandking.com. A little over a year prior, when we launched Claridge + King, a collection of women's clothing, we debuted with a beautiful Flash-driven website on the Yahoo Small Business platform. The look and feel of our site encompassed everything design-wise we wanted to convey, however we soon realized the technical limitations of Flash and the Yahoo platform. Impressed with the e-commerce sites MyCommerce created for its clients, we approached them about creating a website that was just as stunning graphically, if not more, than our former, but one that could be easily updated and maintained from the back end. In addition, we desired a secure, seamless user experience, which unlike the Yahoo product, didn't take our clients outside our own domain to process an online order.
"Unlike our previous Flash driven site which had to be edited by a programmer proficient in its complex language (resulting in costly updates every time we debuted a new piece in our line), today we are both completely comfortable logging on to the backend to process orders, update photos and copy, add press mentions, check stock levels, add new products each season, blog regularly and respond to our customers needs immediately.
"MyCommerce has given us the power to control our message, providing great training, taking us through every aspect of our HTML site and its wide-ranging capabilities. In the case where technical questions have arisen, they have been nothing short of amazing, always promptly responding to our e-mail and telephone queries. In addition, they have been wonderfully receptive about finding clever ways to approach things, all without compromising the graphic aesthetics that are so important to our brand.
"Our experience with MyCommerce has surpassed our already very high (and quite particular) expectations and we, along with our graphic design team, find ourselves regularly boasting to other entrepreneurs about the value, outstanding competence and service MyCommerce brings to the table. We are thankful for the opportunity to work with the MyCommerce team."
Laurann Claridge + Lizbeth King
Founders, Claridge + King