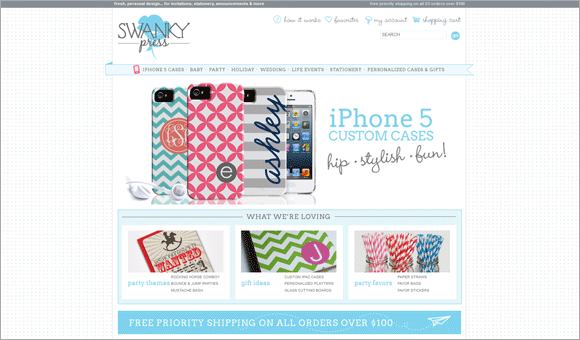 We Say:
Swanky Press is a popular online stationer. With a hugely sucessful Etsy store, and a cumbersome custom-built cart, the owners decided a complete revamp of their website design and software was needed so selected us to deliver it for them. The design was handled by Darling Design, and one major request was to make the site responsive, providing an optimal viewing experience across a wide range of devices, from desktop computers to smart phones and tablets. We also implemented a powerful attribute grouping system that catered to all of Swanky's many different types of products. It also had an expand/collapse feature built into it on the front end, making it much easier for customers to enter all their information. We also developed an image upload feature, allowing customers to attach images to products, and an Add To Favorites bookmarking feature. Swanky Press remains one of our largest undertakings to date and we are immensely proud to power their new online operations.
They Say:
"Our site, SwankyPress.com, started as a small, home-based business. The original site was constructed on a template-driven web platform that left us wanting for flexibility in how we managed and displayed our products on the web. By the beginning of 2012, our order volume had grown enough to justify making a change to a platform that would offer us increased flexibility and efficiency in how we handled our products and orders.
"We started the process with an extensive analysis of eCommerce applications. We looked at Drupal, Magento, Volusion, WordPress, and several other commercial options. After determining that a Drupal solution was most likely the best option for our use, we began a search for a developer who could meet our stringent list of requirements at a reasonable budget and within a relatively short time frame. Thankfully, we had some close personal and business relationships with previous clients of MyCommerce who introduced us to their offerings. We interviewed MyCommerce on several occasions before we selected them as the developer for our project.
"The selection of MyCommerce to re-develop our site was one of the single best business decisions that we have made. Not only were they diligent in understanding our needs and concerns, but they also took the time to keep us involved during the development process to make sure that the site would perform to our specific requirements. We have been involved in many web development projects over our professional careers, and our project with MyCommerce was without a doubt one of the most painless we have ever experienced.
"One of the most telling comments that I can make is to say that MyCommerce remains a partner in making sure that our business is operating in the way that we need it to long after the development project is done. If we could go back in time and select a developer again, we would still choose MyCommerce. We believe not only in their technical skill and expertise, but in their sincere desire to provide a fantastic product at a real value."
Elizabeth Holliday
Owner, Swanky Press