Gear up with TEAM LA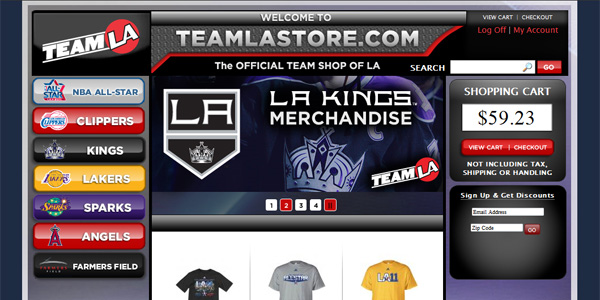 Launching today is the all new online store for TEAM LA. The site features a sliding JQUERY navigation, a dynamic banner slideshow and a custom built dropdown navigation featuring all the sports teams across the NBA, NFL, NHL and MLB!
TEAM LA is a network of retail outlets at some of LA's premier sports venues, including The Staples Center and The Home Depot Center. They sell a huge range of merchandise for all the sports teams in Los Angeles and beyond. The previous online store was built on our old OSCommerce-based platform but recognising the increased demand and need for a more powerful, flexible system, we migrated them over to our exciting new content management and e-commerce platform and at the same time integrated a brand new design.
One of the most impressive visual aspects is an all new JQUERY navigation which animates out whenever it is clicked on. The new dynamic slideshow allows for a number of banners and other images to be uploaded, all linked to deals and promotions on the site. We also added a newsletter signup block and a more visual shoppiung cart block. Combined with our one-page checkout system, the new store is a visual sight to behold and offers TEAM LA customers a great, interactive shopping experience!
tags: