MyCommerce Relaunches!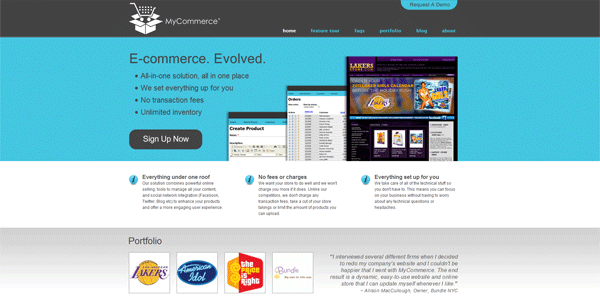 It's been a long time coming - but our fabulous new website is finally LIVE! The site is built on and around our amazing content management and e-commerce platform and is the culmination of intense business consultancy, information architecture, copy writing, design and build!
When the company started in 2005, the e-commerce platform we used was osCommerce - a very popular open-source e-commerce application. Fast forward a few years and it became clear that clients and customers alike were starting to demand more from their stores and the sites they visited and shopped at. People were becoming accustomed to full-blown Blogs, image galleries, Press sections, Videos, Message Boards, social network integration etc. - all essential tools for attracting customers and keeping them on your site for longer.
This is where the e-commerce platform we had been using started to fall short. Whilst it did a great job of selling products - it couldn't manage or cope with other tools and components our clients and their customers were starting to demand. This is where our new, amazing new platform comes in. At its heart is a full blown content management system (CMS) - simply a system that allows you (the store owner) to run and manage all of your content via a simple backend interface.
E-commerce is still the main thrust of our business, so on top of our new CMS, we added a suite of powerful e-commerce modules. This means that the MyCommerce platform offers the best of both worlds - powerful content management with integrated e-commerce - under the same roof - for the very first time.
Our branding and identity has received a complete makeover and our entire business model has been reshaped. Out goes the old maroon color of our old logo, replaced by a much more modern, crisp white on charcoal grey. Gone are the old Features & Options we used to have - replaced by a clearer, easier-to-understand Pricing and Packaging structure. Partnerships have been formed with some of the best companies, organizations and service providers in the industry - all at any new client's instant disposal. We are now a one-stop-shop for absolutely everything you need to get set up online, from merchant processing and hosting accounts, to SSL's, advanced SEO and social media marketing and design.
We're very proud of the new MyCommerce site - we hope you enjoy looking around!
~ The MyCommerce Team
tags: